The film is available for viewing from November 12, 07:00 till November 21, midnight 
and for 24 hours from the start of viewing.  
More info on tickets order here
Contact us: [email protected]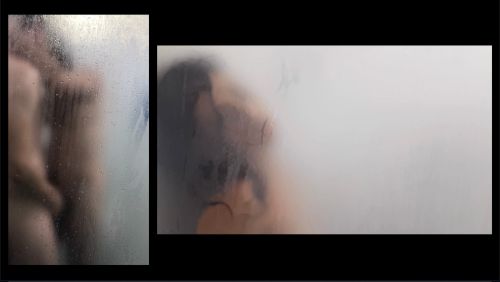 TWIN 
Directed by: Erga Yaari
Production: Almog Barzilay Rozenpik
Script: Erga Yaari
Cast: Asked to remain anonymous
Sound: Ayelet Gabay, Camera: Ohad Milstein, Editing: Roiy Nitzan
Israel, 2019, 8 min, no words
The split screen video "TWIN" reveals the natural human action of naked bodies meeting while having sex, through the transparent division between showers in a public pool. Women meet women, men meet men. The video looks directly at this act, but leaves you with a suggestive image. The body, it's skin and the flesh under, the silhouette, its absence; a familiar body, a new body…:
Zoom
Directed & Script by: Tal Elkayam & Daria Shoshani
Production: Tal Elkayam & Daria Shoshani
Cast: Daria Shoshani, Daria Gilat Brenner, Gal Ventura
Crew: Tal Elkayam
Israel, 2020, 2 minutes, Hebrew with English subtitles
A short film about falling in love in the time of corona.
Lust of the flesh
Directed & Scrip by: Adi Sav
Production: Adi Sav
Cast: Maya Salomon, Hagit Hoja Shahar, Sharon Weissbart, Kalanit Sharon, Limor Shpigler
Cinematographer, Editing & Sound Recording: Adi Sav, Music: Dalit Ziv, Sound Mixing: Maayan Kraim
Israel, 2020, 12 minutes, Hebrew with English subtitles
Performance, video art and stop-motion animation that connect with intimate feminine thoughts about sexuality, body, orgasm and managing heterosexual and homosexual relationships. It is a story about the desire and fear to love and be loved as a human being.
I Never Said It Wasn't Allowed
Directed & Script by: Michal Beer
Production: Michal Beer
With: Amnon Beer, Taly Beer, Dorit Beercesat, Michal Beer, Nathan Beer, Chen Màtes, Sonia Kotliar, Ziv Beercesat
Editor & Photographer: Michal Beer, Mix: Eran Regev, Translation to English: Noa Hayman, Dorit Beercesat, Subtitles: Chen Mates & Michal Beer
Israel, 2019, 16 min, Hebrew with English subtitles
Festivals:
Lethal Lesbian 2019
"For a year and a half, I filmed moments of my life, divided in this film between my parents' house and my own. I attempted to stand in the gap between these two worlds, a gap in which my personal conflict takes place; I found myself overcoming and compromising, struggling and giving up. With the help of the camera, I tried to go out on a journey with my father. I don't know how this journey will end, since I'm not really sure if it ever began. " – Michal Beer
One Woman Who Became a Man
Directed by: Limor Shmila
Produced by: Nili Tserruya and Linor Lavi
Cast: Nili Tserruya
Cinematographer: Ziv Mamon, Video editor: Shani Beinart, Script: Nili Tserruya and Limor Shmila, Music: Lir Shilton
Israel, 2020, 4 min, Hebrew with English subtitles
Festivals:
Melbourne 2020 WebFest – The Impact Award
Buenos Aires Series Festival
The Stareable Fest, New York
Rio Webfest, Brazil
Apulia Web Fest, Italy
BOGWEBFEST, Colombia
Miami Web Fest
New Zealand Web Fest
Adam has always been attracted to men, even in his youth when he was a woman.
Today, as a man, he is re-learning to feel comfortable with his sexuality.
Based on a real interview, from the project 'One Woman'.
All films in this project were created by women.
Ashdod Baby
Directed & Script by: Eli Eliahu
Produced by: Eli Eliahu
With: Eli Eliahu, Tomo Hen, Osher Sabag, Neli La Priol, Orel Markovitz, Liraz Amar, Asaf Biton, Ema Vanor
Filming and sound recording: Eli Eliahu, Editing: Raz Berco, Light: Orel Markovitz, Graphics: Roni Keidar
Israel, 2020, 17 minutes, Hebrew with English subtitles
A short film depicting the city of Ashdod from the point of view of its LGBTQ residents. Personal conversations about the gay experience in the southern city.
Mirror
Directed & Script by: Yuval Rotman
Produced by: Yuval Rotman
Cast: Tomer Perry, Rivi Rotman
Crew: Yonatan Halevy, Yonatan Dayan, Sean Paneth, Meitar Rocach , Aharon Idan
Israel, 2020, 6 minutes, Hebrew with English subtitles
Tomer wanted to be a woman his whole life but never told anyone. What would happen when his mother finds out?
Temporary
Directed & Script by: Omri Samson
Produced by: Omri Samson
Cast: Yogev Atias, Eran Rosenzweig
DOP: Mielle Lavie, Best Boy: Roi Ziv, Light: Daniel Nieto, Sound: Eitan Stern
Israel, 2019, 4 min, Hebrew with English subtitles
A short one-shot film of a passionate evening: Ido and Tomer's evening changes when an accidental mistake brings Tomer to an emotional and difficult exposure.
LoneWolf
Directed by: Dani Williamson, Inbar Horesh
Production: Timer Meir
Screenplay: Chanan Ben Simon, Dani Williamson
Cast: Dani Williamson, Moran Duvshan, Yohana Reit, Laila Betterman, Osnat Feitlson
Israel, 2019, 4 min, English
A music video by the righteous Randy Miller.
Original music written, produced, and performed by Randy Miller.