Thursday, June 13, 2019, 22:00 Cinematheque 1 Tickets
Saturday, June 15, 2019, 18:00 Cinematheque 2 Tickets
Tickets are also available at 03-6060800 ext. 9

Leave it to Levi
Dir: Jake Jaxson
Production: R.J. Sebastian, Jake Jaxson
Cast: Levi Karter, Liam Riley
USA, 2019, 70min, English, no subtitles
Festivals:
The 2019 Guadalajara International Film Festival – World premiere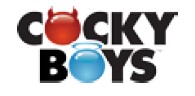 An emotional, entertaining documentary from the CockyBoys franchise, bringing to the big screen the story of Levi Carter, one of the adult entertainment industry's biggest stars of the last few years and the change that has taken place in his life.
In 2014, Luke was a teenage boy who had grown up in a small town in Ohio – adopted, and the only child of a single mother. He later dropped out of college and moved to New York to pursue a gay porn career. In the big city, he took on the name Levi Carter and went on to have a thriving, award-winning international career with high-brow porn production house, CockyBoys.
Secretly and unbeknownst to anyone, Carter decided to pursue yet another fantasy and branched out to a second career as a drag queen who goes by the moniker: Sassy Frass Meaner.
Attention: The film features nudity and graphic sex scenes. Entrance is restricted to persons aged 18 and older.
The cast and creators will be present for the screening.